It's here, at last…the British Science Festival ticket bookings have officially opened. Please give a warm welcome to the line-up for #BSF22!
Between 13-17 September 2022, this year's British Science Festival will be taking over the city of the Leicester with over 100 FREE, engaging and off-the-wall installations, performances, and activities.
Join us to celebrate the people, stories, and ideas at the heart of science with a programme, curated in partnership with De Montfort University Leicester (DMU), which fuses science and research with performance, art, and technology – like never before.
All events will take place throughout Leicester (in the city centre and on the DMU campus). Events are scheduled throughout the day and into the evening from Tuesday 13 to Saturday 17 September.
All tickets for the British Science Festival are completely free, but spaces are limited so booking is essential for most events. Ticket bookings and the full programme line-up can be found at https://britishsciencefestival.org/events/
Highlights from this year's programme include:
Immersive experiences
Experience the world premiere of The Compass, a spellbinding installation driven by British research pioneers and the everyday person's life journey. Created by Illuminos, The Compass represents our shared navigation of knowledge, discovery, and the science that shapes our world. We invite you to explore its interior by day, and marvel at its spectacular exterior by night.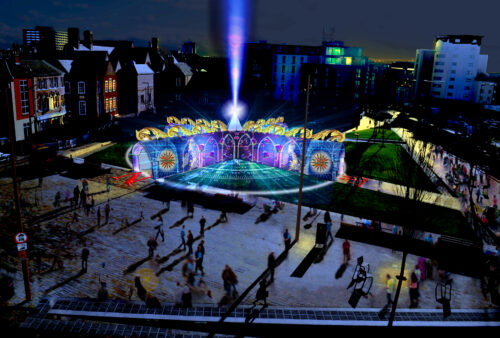 Join us canalside to let off some steam. The Canal & River Trust's '5 ways to wellbeing' series of activities rooted in promoting positive mental and physical wellbeing. Hop in a canoe and paddle downstream in Calming canoe journeys, or perfect your downward dog doing some Paddleboard Yoga. Namaste.
Prepare to get messy in Painting over of the cracks, a one-of-a-kind art workshop. Grab a brush (or…er, a fork) and join Indrani Lahiri (De Montfort University) to explore how different forms of putting paint to canvas might be a way of switching off and better managing mental health.
Science meets the circus with Science on stilts (University College London). A walkabout show where real-life scientists (on stilts) have a scientific chat with anyone who seeks answers in wacky and wonderful ways. Be prepared to get your grey matter working.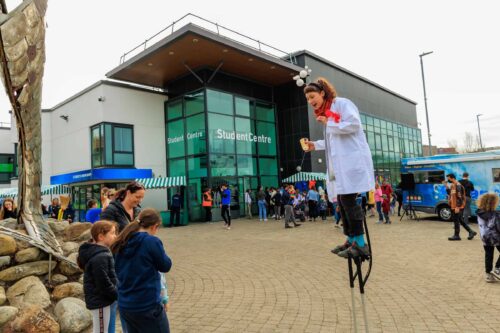 For the love of food and music is a sensory feast. Snacking on your favourite treats and listening to good music all in the name of science? Count us in. Explore the link between food and music and their psychological effects with psychologists Annemieke van den Tol (University of Lincoln) and Helen Coulthard  (De Montfort University).
Real people, real stories
Join the British Science Association's incoming President for a fireside chat in Presidential Address: In conversation with Dr Anne-Marie Imafidon. Together, delve into the award-winning social enterprise, Stemettes, and her vision for the future of the organisation – plus Anne-Marie's personal experiences in STEM.
Artificial intelligence (AI) is everywhere. Shapes what we watch? Yes. What we hear? Yup. What we buy? That too. For many of us, AI can make our lives easier and more connected but what about people who don't have access to these technologies? Experts from the Stephen Lawrence Research Centre will discuss this and more, in Artificial intelligence for all?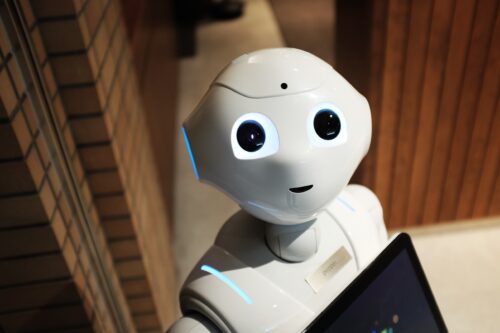 Migrant women. What's the first word that came to mind? Because of their depiction in the media, it probably wasn't 'entrepreneur'. We're here to shake things up with Woman, immigrant, entrepreneur where Natasha Katuta Mwila (De Montfort University) will share lived experiences of women migrants in Leicester.
Join sex historian Kate Lister (Leeds Trinity University) who runs the Whore of Yore project, in Sex, Shame and Stigma, a discussion around the stigma that comes with her job, and how we can work towards a more sex-positive future.
Uncover the unknown
For a spot of stargazing and a glimpse into the world of space and astronomy, become part of the live audience at a recording of the BBC's much-loved programme, The Sky at Night – hosted by Maggie Aderin-Pocock, Pete Lawrence and Chris Lintott.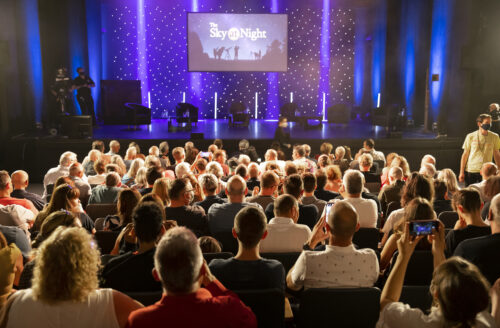 Immerse yourself in the weird and wonderful world of illusions with Loughborough University researchers in Mind-bending body illusions. Melting hands, extra digits, and seeing and feeling the impossible are all yours to discover.
Ticket bookings and the full programme line-up can be found at: https://britishsciencefestival.org/events/
Get social. Follow us on Twitter, Facebook, and Instagram for the latest on #BSF22.
See you in September…