The British Science Festival invites you to take a journey of exploration at The Compass: a unique spectacle of story, sound and light.
When: Tuesday 13 September 2022, 11:00 – 18:00.
Wednesday 14 September – Saturday 17 September 2022, 11:00-21:45.
Where: Jubilee Square, Leicester LE1 4LD (outdoors).
Who: Recommended for 16+, but open to all ages.
Bookings: This is a drop-in event, no booking is needed. Free to attend!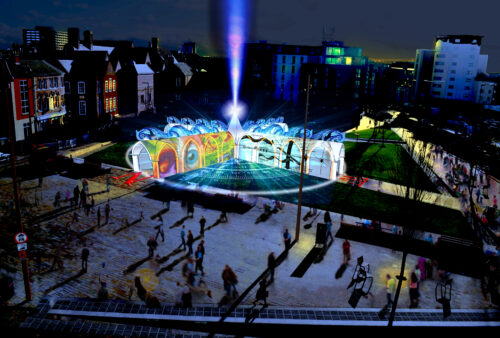 Between 13-17 September 2022, this year's British Science Festival, in partnership with De Montfort University Leicester (DMU), will be taking over the city of the Leicester with over 100 FREE, engaging and off-the-wall installations, performances, and activities.
One of the standout experiences will be the world premiere of a fully immersive installation – The Compass.
Prepare for spellbinding projections, bringing to life how we navigate knowledge, as well as the epic stories of British researchers, and the science that shapes the world around us.
The Compass has been commissioned by the British Science Association (BSA) and is supported by the Department of Business, Energy and Industrial Strategy (BEIS) and by UK Research & Innovation (UKRI), to celebrate British scientific research and creativity.
The installation is being designed and created by artists, Illuminos, and the BSA are working with locally-based social enterprise and event production specialists, Inspirate, to bring the project to life.
What's behind the name?
191 years ago, in 1831, the Magnetic North Pole was first discovered. In that same year, the British Science Festival was born. Science, technology, engineering and mathematics (STEM) research is all about exploration. Trial and error, making mistakes , testing and trying again. The Compass brings this to life – becoming an accessible creation of that idea – for all to explore.
Just as a compass helps us to plot a course, find our bearings and explore new worlds, this installation will show us how scientific endeavours and processes directly resonate with our daily lives.
By day, you'll be able to venture inside The Compass to interact with the animated stories from across British research. And by night, marvel at the spectacular projection experience. Get ready to see Leicester's Jubilee square in a whole new light.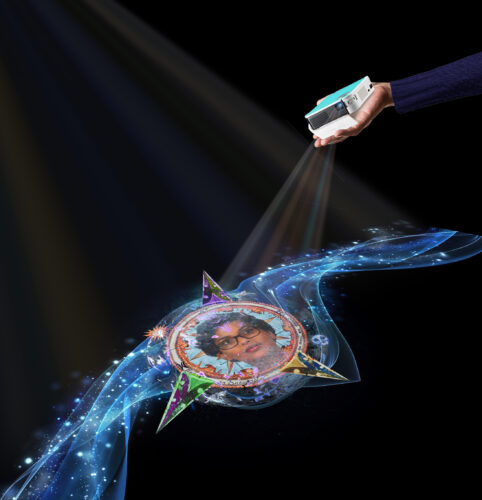 Antonio Benitez, Director of the British Science Festival, said: "Bringing The Compass to life with Illuminos, Inspirate and other partners, alongside input from local community groups and pioneers in British research has been such an exciting project.
"The British Science Festival is the perfect host to showcase this truly exceptional installation celebrating British science research, and discovering its synergy with the widest of audiences."
Matt and Rob Vale, Projection Mapping Specialists at Illuminos, commented: "We're delighted to be premiering The Compass at this year's British Science Festival. A large focus of our work is collaboration – developing ideas with local audiences and looking for ways their involvement can shape the piece.

"The Compass has been a prime example of this, with a blend of stories, new ideas and thoughts at the heart of the installation."

Shiven Limbachia, a member of Inspirate's Youth Advisory Panel, added: "Having the opportunity to input into the development of this installation has been really exciting. I can hardly wait to see the final result – a collection of our everyday moments being elevated to something spectacular."
This is a drop-in event, no booking is required. The Compass is free to attend.
The British Science Festival full programme line-up can be found at https://britishsciencefestival.org/events/

Get social. Follow us on Twitter, Facebook, and Instagram for the latest on #BSF22.
If you have any questions about The Compass, or any of our other events, get in touch at [email protected]