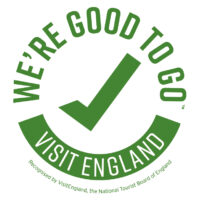 At the British Science Festival, the safety of our audiences, staff, and speakers is our highest priority. When attending our events, you can be confident that we are following guidelines from the Government, industry, and specialist consultants to ensure that our events and premises are safe for all.
What you can expect from us:
Moving a large part of the Festival programme outdoors;
Ensuring all indoor venues are well-ventilated and allow for social distancing;
Putting in place sanitising stations and enhanced cleaning schedules;
Training our staff on COVID-19 safety;
Restricting the capacity of our events;
Enabling a waiting list functionality on our website for sold out events, which will automatically notify you if we release more tickets;
Allowing tickets to be booked by individuals or in groups that can be seated in social distance (1m+) from other attendees;
Creating online content, such as the Award Lecture Winners video series and The Peregrine – Audio Escape Trail.
At the same time, we need your help in protecting your health and the health of those around you while at the British Science Festival.
Please attend responsibly:
respect each other's space and maintain distance when you can;
wear a face covering (unless exempt) in our venues and when interacting with our staff or speakers;
maintain good hygiene, wash your hands, and make use of hand sanitiser;
if you are attending an event without having booked tickets first, scan a venue QR code on the NHS COVID-19 app upon entry to our venues. If you do not have a smart phone, you can leave your contact details with our Festival Assistants;
do not attend if you're showing symptoms of COVID-19;
show empathy, respect, and consideration to others, acknowledging that everyone has different circumstances.
We appreciate your help and support in keeping the rest of the audience, our staff, and our speakers safe.