The British Science Association and De Montfort University Leicester (DMU) are pleased to announce that the British Science Festival in 2022 will take place in the city of Leicester across five days next September. The Festival will be held between Tuesday 13 and Saturday 17 September 2022, with events being held on the University's campus, as well as at venues across the city, offering over 100 free activities for nearby residents.
There are a number of opportunities already open for you to get involved from applying to be an Award Lecturer, volunteering as a Chemistry Section recorder and Proposing an event.
Become a British Science Festival 2022 Award Lecturer
We are excited to announce we are now accepting applications for the British Science Festival 2022!
Full details including a link to the application form can be found here. The deadline for submissions is 17.00 on 6 December 2021.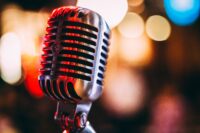 Propose an event through the 2022 Festival Open Call
We are now accepting event proposals for the British Science Festival 2022! Anyone can propose an event and the Festival celebrates science in its broadest sense. We are looking for proposals from individuals, researchers, industry professionals, artists, writers, organisations, charities, academic institutions, and more. Get in touch if you organise events that showcase cutting-edge science, celebrate the latest developments in technology and engage audience in open discussion.
The proposal form can be found here and the deadline for submissions is 17:00 on 14 February 2022.